Download your FREE copy of the Ontario Condominium Buyers Guide here
Lots of my clients have questions about the dreaded 'maintenance fees' associated with Toronto condos I'm going to de-mystify them for you!
If you're buying a condo it's important to know how much the maintenance fees per month, as your lender will take 50% of the condo fees into consideration when they are looking at your finances.
Very simply, condo fees are calculated on the square footage you own, and a % of the common areas (like the halls, lobby, gym, elevators, recreational facilities). So if you own more, like a larger unit, an extra parking spot, a locker you'll pay more per month.
The actual fees in Toronto are around 67 cents a square foot; but there's a really wide range – I'll talk about why that is next. If you find a condo that has monthly fees are about $1.00 a square foot or more, than you're in a building with higher fees.
Click here to watch my 3.5 minute video - Monthly Condo Fees or click on the picture below!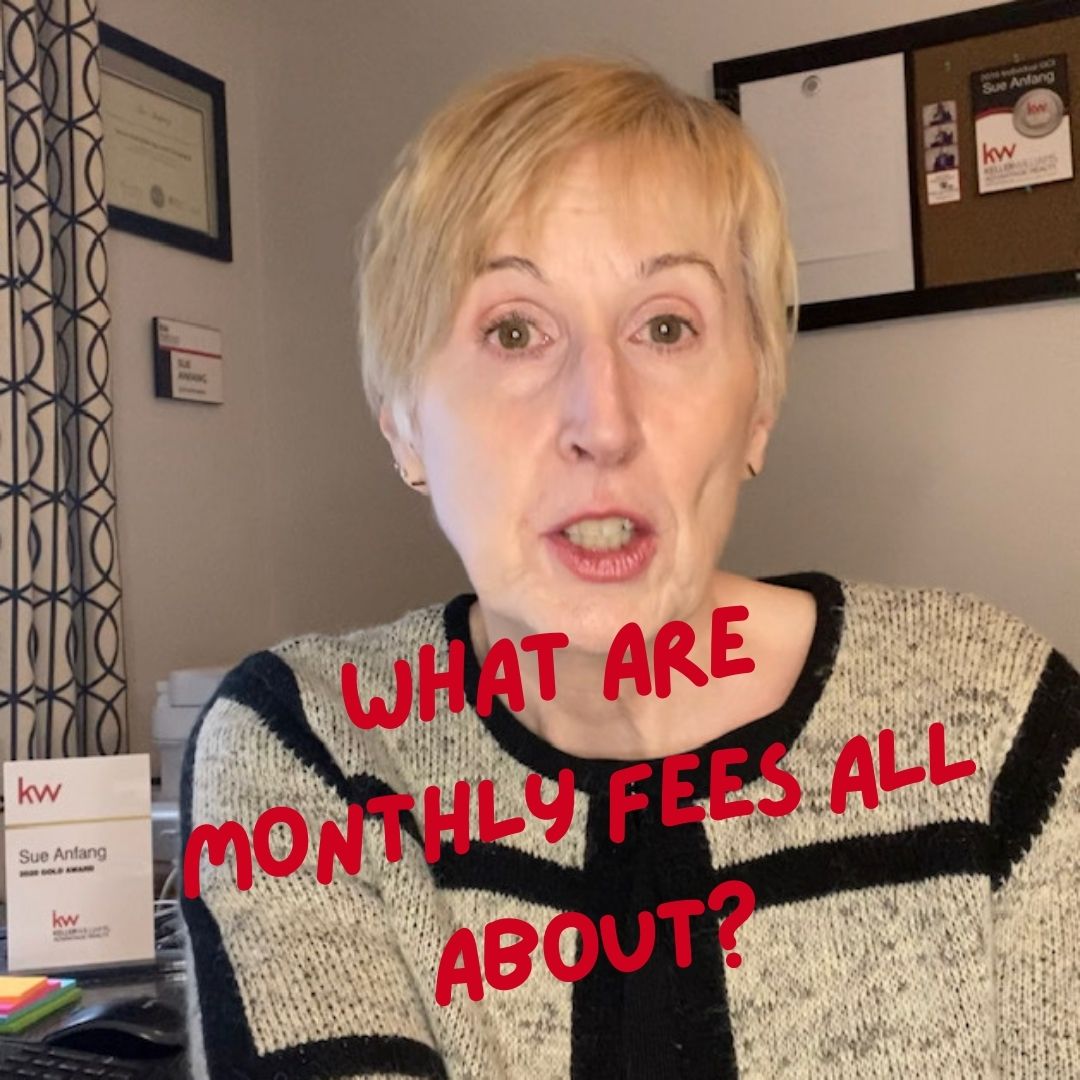 Before I cover what's in the video here, here are some additional Pro Tips:
1. Pro Tip - understand how fees work to set your budget and expectations
Did you know that Toronto condo fees can have a direct relationship with the price you pay for a condo? Many of my clients wish list looks like this:
"Sue I want a big condo with low fees and all utilities included in a new building" Is that even possible on a modest budget? Let's call those features the "holy grail" of condos. Is it even possible to find that? Well, yes, if you have a higher budget than average,,,,
It may be if you are looking to spend over the Toronto condo price average. But if you're looking to spend under the Toronto condo price average (right now it's $730,792) it just makes sense that you will not likely find the "holy grail" with a below average budget.
2. Pro Tip - there is a relationship between price and monthly condo fees
I mention in the video that monthly condo fees can range from an average of .65 per square foot (you'll have a hard time finding a 2 bedroom with fees under $600 per month) to over $1.00 per square foot.
There are 2 types of condos in Durham and Toronto where you can find $1.00 and up
Luxury buildings that are in wealthy neighborhoods

Condo buildings that have had to increase fees to cover extraordinary repairs. I will say generally (but not exclusively) these buildings are older & have a lower income owners or owners on a fixed income. They have not agreed to increase the monthly fees to cover repairs over time; consequently have had large condo fee hikes for emergency repairs. This depresses the prices in the building.
But, don't worry, you will be able to check that out before you buy! That's the subject of my next video!!
3. Pro Tip: is it a bad idea to buy an older condo?
Older condos can be a great option - this is where you find the sweet spot of size & community. I like older condos because:
you can get an idea of the community

they are larger

if they have been well managed, fees increases will be modest over time

large costly repairs may have already happened (therefore been paid for)
So back to how fees have changed over time;
So why is there such a wide range of fees and what to they cover?
The first condo in Toronto was built in 1968, they were heavily advertised as a great option for downsizers. To attract this clientele, the condos were created as maintenance free living – large units with luxurious amenities. So, similar to an apartment utilities and upkeep were included in the monthly fees. Indeed many older buildings still include all utilities in their monthly fees as well as cable TV & internet packages.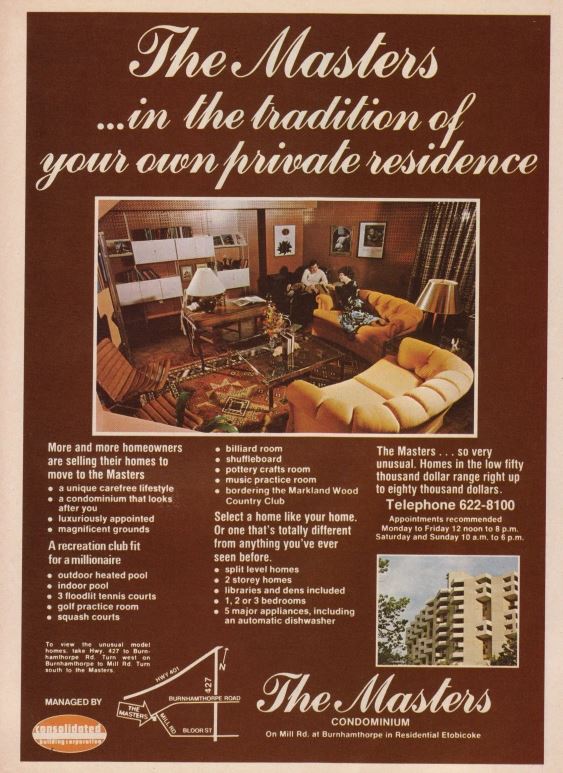 Here's an article from Tridel on First Condos in North America
Over time, the provincial government encouraged builders to become more energy efficient. Condo boards also looked to manage fee increases by downloading some utility costs to the suite owners. Consequently you'll find buildings built in the 1980's include fewer utilities.
So what do those fees cover? Think of a pie chart with a slices allocated to different things - see the example below. One slice goes to a reserve fund, where funds are reserved for upcoming repairs & capital improvements. One slice is for utilities, one slice can be for groundskeeping and landscaping etc. The owners form a board of directors that oversees the management of the building year to year.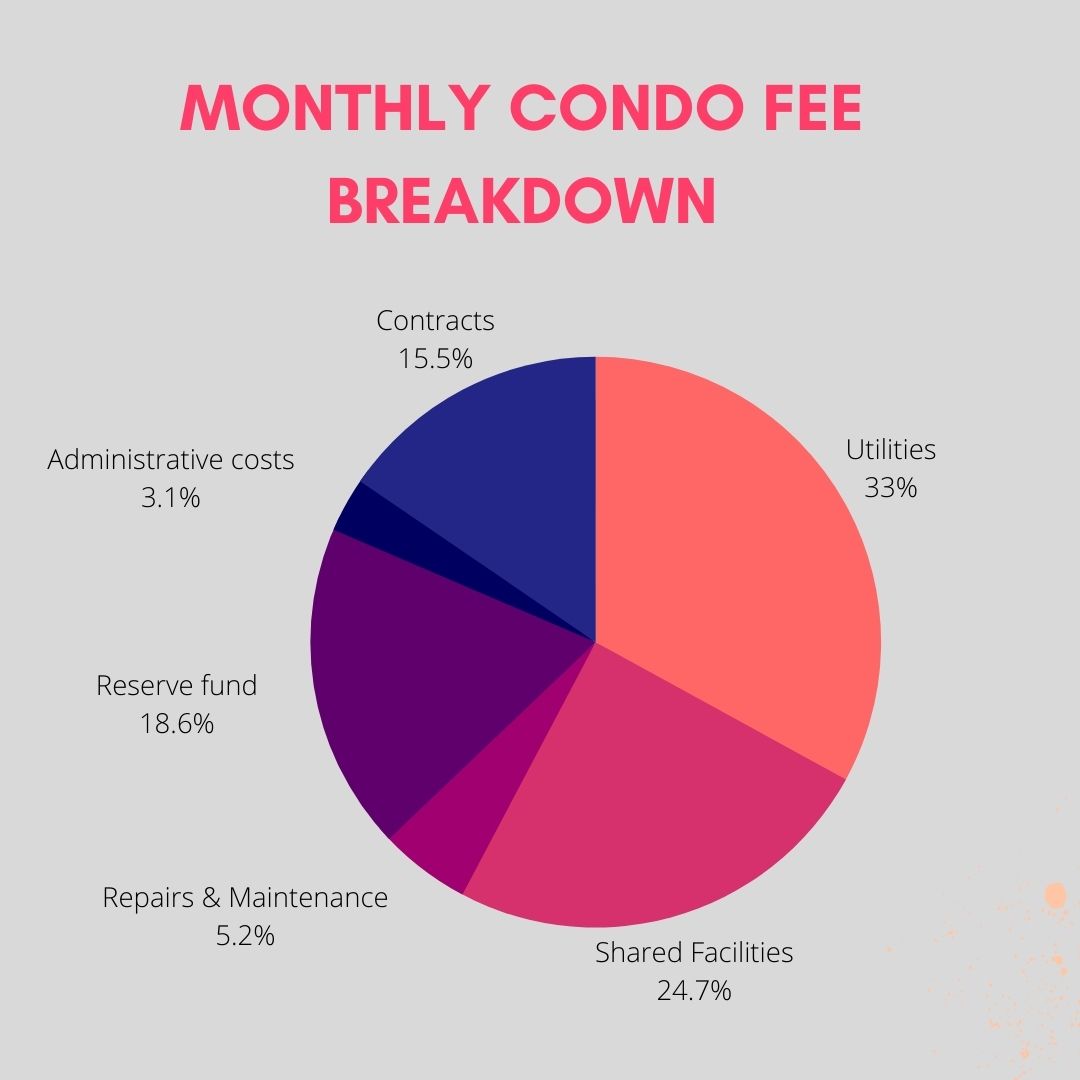 Who regulates condominiums in Ontario? Rules for how a condo operates are governed by Provincial legislation called the Ontario Condominium Act. If you're buying a condo, the property management is obligated to provide you with the financials – called a Status Certificate to review with your lawyer – I'll be talking more about that in the next video!
Other helpful articles and resources:
Buying an older condo in Toronto
Condominium Authority of Toronto
If you'd like to learn more, please call me at 416-562-5002.
Download your FREE copy of the Ontario Condominium Buyers Guide here