One thing that I love about Scarborough is the variety of parks we have available for relaxing and exploring. This week I am featuring the parks at The Guild Inn (or as we locals like to call it, the Guild) which is a historic site on the Scarborough Bluffs in Guildwood, Toronto.
The original building and surrounding lands were an artists colony that stretched from Kingston Rd. (Where the Gates of Guildwood Condominiums now reside) to Lake Ontario.
In the 1950s the owners sold much of the land to pay property taxes. The planned community of Guildwood opened to much fanfare in the early 1960's.
At the top of Guildwood Parkway you can see the "Gate to Guildwood" – this actually used to be a manned gatehouse!
The original historic building, the Inn – continued to run as a hotel and restaurant into the 1990's. The 90 acres of parkland behind the inn is a public park & sculpture gardens maintained by the City of Toronto. The sculpture gardens consist of many architectural facades & columns from demolished Toronto buildings.
Unfortunately, the Inn declined and fell into disrepair. By 2001, the hotel and restaurant were closed, leaving the park open to the public.
In 2017 the Guild Inn was re-opened with 2 beautiful outdoor pavilions and banquet facilities that flank the main historic property.
They are a popular spot for weddings – and the beautiful gardens are also a popular spot for engagement and wedding pictures!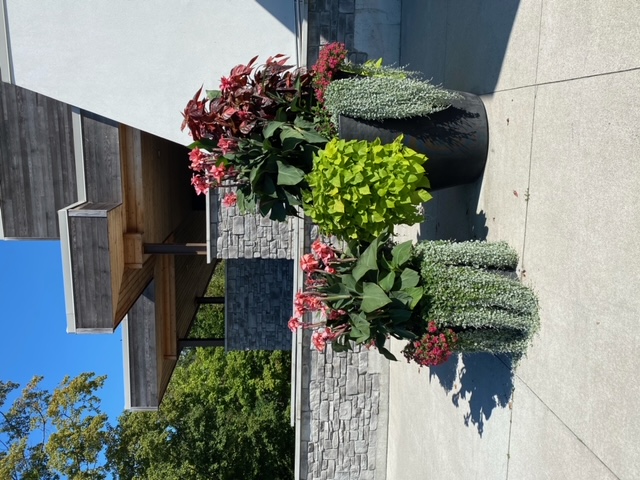 Beautiful Flower Plantings in front of an Outdoor Pavillion at the Guild Inn
So come join me on a video tour of the path at the top of the bluffs, the sculpture gardens & a glimpse at the historic Guild Inn as well as the modern outdoor pavilions!