We all grew up with something similar if your childhood was pre-digital photography, that is! Whether it was slides, photographs, videos or home movies - at some point you may need to deal with your family's collection. Well, that's what I did over this holiday season!
I went through
29 Boxes of slides
Stacked on top of each other, it was over over 6 feet of boxes!
at 140 slides per carousel this was over 4,060 slides to review!
Clearly I needed a plan of attack.
A bit of history to set the scene. I have 2 boxes in my basement that have been guilting me ever since my mother moved from her house into a retirement home apartment over 2 years ago. These slides had made the move from our family home in Scarborough when the Scarborough home was for sale . These boxes moved with her to her townhouse in Markham, where they lived there in the basement for 20 years. When she the Markham townhouse was for sale, the boxes came to live with me. They are boxes full of kodak slide carousels! Here's the full stack in all it's glory:
My dad was a huge photography buff. He even made a darkroom in our basement. But his biggest passion was slides - he took slides up until the 1990's. Of course no family get together would be complete until the slide projector & screen were set up and the show began!
I even remember posing with my sister for the 'title' slides between events. The backdrop was our kiddie pool liner and we would pose with a letter board spelling out "Trip to PEI, 1967"
While the earlier slides don't seem to be around, my mom is. At 92 her memory is not that great, so I thought I'd finally do what I have been putting off & sort through the slides. Spanning from 1970-1986 I sorted through over 4,000 slides. My dad was an organized guy and many of the slides were labelled, and of course they were in chronological order. Here's how I did it:
The original plan was to set the slides up on the projector & sort through what to keep. Unfortunately, while we had the projector the lens assembly was missing. I borrowed another projector and empty slide trays but the job of transferring 140 slides per carousel to smaller trays then sorting was pretty daunting.
Plan B – I just looked at the slides against a bright light. They were mostly labelled, so I knew what I was looking at, and in most cases who I was looking at.
Sorting Criteria. I wanted to keep mainly pictures of people. After sorting through all the slides I had a pile of about 170 slides. Luckily many of the slides were trips my parents had taken with no people in them, or pictures of historic sites, so a great many could be chucked with little remorse…. My sorting criteria was loosely

Keep mainly people
Keep people who mostly I knew
Keep a variety of years
Keep in mind my sister & my kids who may also want to take a look at them

Digitize the slides. My husband found a small digitizer on Amazon that had pretty good reviews for about $80. It can digitize slides, pictures & filmstrips – to stills. It has a manual feeder with some adjustment buttons to flip or rotate images. Then it saves them to a chip. If you want to tune up the pictures, you'd need some software, and of course you need a chip reader to transfer them to your computer.
That's it! Now I can get rid of: 2 big boxes & a bunch of guilt (for keeping the boxes so long & also not doing this sooner) My sister got a bigger kick out of the slides than my Mom did, too!
Heres a look at the digitizer and the steps involved:
The feeling when you're done!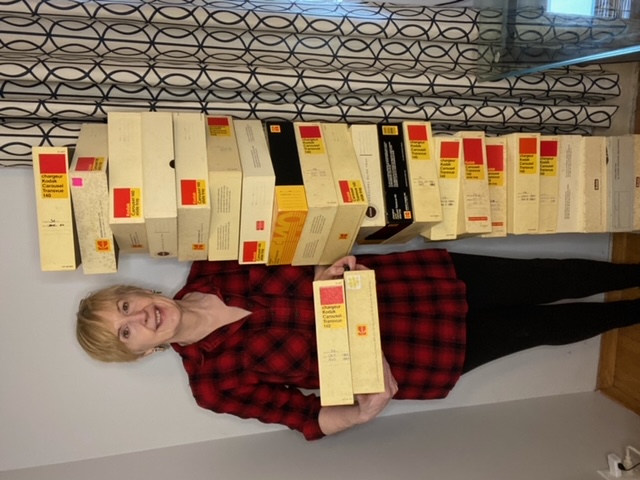 Some hidden gems I found:
More articles on digitizing slides and photos can be found here:
Downsizing Presentation on YouTube - Dealing with your stuff