Wherever you're buying a condo, whether it's a Toronto condo, a Scarborough Condo or a Condo in Durham, it's super important to do a walk through before closing to make sure the condition of the condo is the same as when you purchased it!
Come join me as I walk through a condo purchased for a client & show you the steps we take in the final walk through (I've consolidated this into a quick 2 minute video, but this generally takes 1/2 hour to 1 hour depending on the size of the condo.
When do you do the pre-closing walk through? I generally advise to do these the week of closing, ideally after the occupant has moved out & with enough time to advise the seller & real estate lawyers should there be any deficiencies. When you're looking for deficiencies, you are looking for things that will need to be repaired - like appliances not working, Missing window coverings or light fixtures, damage to floors or walls that was covered previously by furniture etc.
What happens if somethings wrong? Close to closing these can be done either with the co-operation of the other realtor and/or the lawyer. You can discuss repairs, replacement or monetary credits. You cannot arbitrarily decide not to close or hold back funds unilaterally (without the other side's agreement)
What condition should I expect? The standard for any property on closing is what we call "broom swept condition". Unless you have specified that the unit be professionally cleaned before closing in your contract, of course. Broom swept means all personal possessions have been removed, and no garbage is left behind. Generally cupboards and appliances are wiped down.
The 9 most important things I check in a walk through:
1. Make sure all items from the previous occupant have been removed
2. Check the closets are cleared out.
3. Check all the lights work (burned out bulbs don't count, the fixture has to work)
4. Check all the blinds and window coverings that are included in the contract are there and in good working order
5. Check that all the taps work, that the shower switches over from filler to shower and check that both hot and cold water are running. Flush the toilets. Check for leaks.
6. Check under all of the sinks to make sure there are no leaks
7. Check that all the appliances are working
8. On closing day, it's super important to run a cycle in the dishwasher and washing machine to make sure they're working. (We don't have time to do that during an inspection)
9. Check that the parking spot and locker are clean and clear!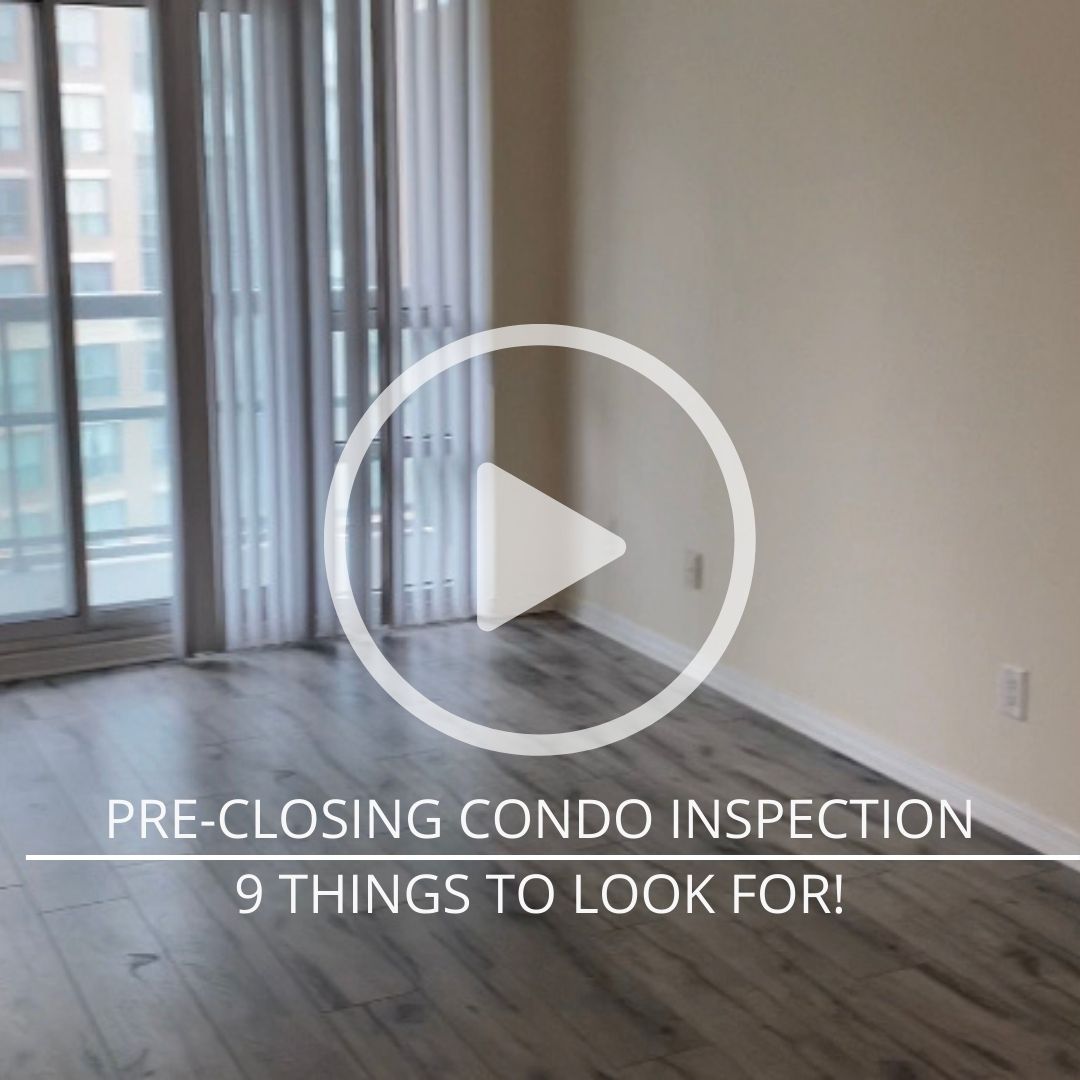 Be sure to check out my other videos about buying a condo in the Greater Toronto Area & subscribe to my channel for Real Estate Updates:
Tips on Choosing the best Condo for you!