Low interest rates, strong buyer demand and a low supply of homes for sale during the winter months led to rapidly increasing prices – buyers 'panic purchased' - but what the heck happening in June??
If you follow social media posts from Realtors (or if you're on their mailing list) you'll see words like "shift" or some comparisons to "prices up year over year" to instill confidence. My guess is they have not had a listing for a while!
So the June numbers are definitely showing, for the average home price in Toronto that the market has slowed. With higher interest rates, inflation and buyer nervousness, fewer homes are being sold and prices are down.
Many buyers now are sitting on the sidelines – resulting in slowed showings, fewer offers (in bidding wars) and a return to conditional offers.
Generally, higher demand areas are feeling this less – core Toronto, the Beach, Leslieville, West End. (often these areas are 'protected' from market changes)
Areas like Scarborough and Durham are feeling this more. Key things to know:
- House prices are down in Toronto 20%
- Fewest transactions on record in many, many years
- House prices in Durham are down 25%
- "price floor" (lowest priced properties - mainly condos) have not seen declines
- rental market is hot - about 30% of downtown condos are renting over the list price.
What's causing this decline?
Even though prices have declined, affordability has not been improved - take the example below. This home would have easily sold for $1,300,000 in the spring. Now, say it would cost you $1,100,000. With the current interest rates, it would still cost you more to own this house.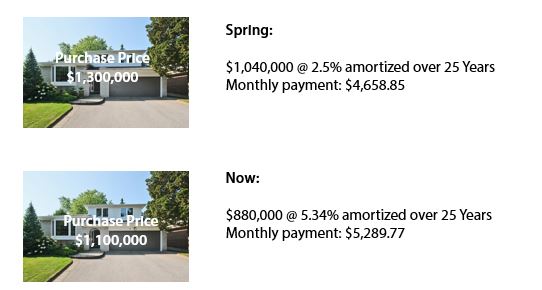 Also, remember the stress test? Where you, as a buyer have to qualify at a higher interest rate than your mortgage? Well that's still around, and higher than ever. So the qualification is even more difficult until the rules relax.
Consumer confidence is shaky right now
Analyzing the numbers is one thing, but having a house listed for sale will quickly introduce you to the consumer attitudes that are prevailing, especially with Scarborough homes for sale (where the home I have for sale is one of many, similar homes. Buyers & buyer realtors used to ask about the house features. Now they ONLY talk about price (maybe it's just the area this house is in, but they are very reluctant to talk about anything else).
How long will this last?
A lot of this is fueled by the bad economic news, interest rate hikes & recently the talk of a recession. The impact of this type of media is the general belief that the sky is falling & the fact that this type of market brings out deal hunters. The fact is with slower sales, there is more consumer choice.
The last market dip lasted 5 months before prices rose, and about a year in most areas to recover the losses (2017-2018) if this is recession based, we may be looking at a few years before recovery.
Other great content to check out if you're interested in Real Estate:
Pete Ly video on what's going on in the Toronto rental Market
Jordon Scrinko Video on Current Market (including Pre-construction & new build information)
What type of Consumer are you?
The most important thing to consider when you buy a condo