This report is adapted from Rentals.ca via. Blog.To
Toronto rent prices have been up, down and all around lately as the market recovers from pandemic lows in 2020 that saw apartments get increasingly more affordable month-over-month for more than a year straight.
Now that the provincial economy has nearly opened up in full again and the return of international travel and immigration as we used to know it is on the horizon, things are picking up in the short-term rental, long-term rental and real estate world in general (though as far as house and condo purchases in the city, things hardly even cooled due to COVID-19).
The average price of renting a unit in Toronto proper and the GTA overall has started rising slowly once more.
In the city proper, neighbourhoods like Cabbagetown-South St. James Town, North St. James Town and South Parkdale are among those that have the cheapest rents right now, while Rosedale-Moore Park, the Bay Street Corridor, and Waterfront Communities-The Island had the priciest, and also more active listings.
While general affluence of and rental trends of certain areas are obvious factors in price, there are other things at play — namely, the number of options made available by new builds.
"The neighbourhoods with low levels of new condo construction experienced over the past decade have seen the biggest increases in rent in 2021 in the city of Toronto," Bullpen President Ben Myers said alongside this latest data.
"Desirable communities near transit, with a lack of supply have been the first to recover during the pandemic."
Compared to the rest of the GTA, renting in downtown Toronto remains, on average, more expensive than in Brampton, Mississauga, Markham, Ajax, East York, Scarborough, York and Etobicoke, though cheaper than in Richmond Hill, Vaughan, and Pickering, as per the most recent numbers from the two companies.
As workers prepare to return to the office (on top of all else that is opening up), the experts expect that rent prices will continue to rise, especially in popular areas where supply remains tight.
What do Rentals Cost in Toronto? This chart ranks the rentals by Neighbourhood in Toronto: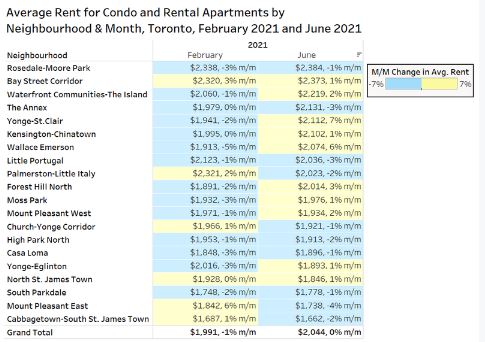 How does Toronto Stack up to Canada?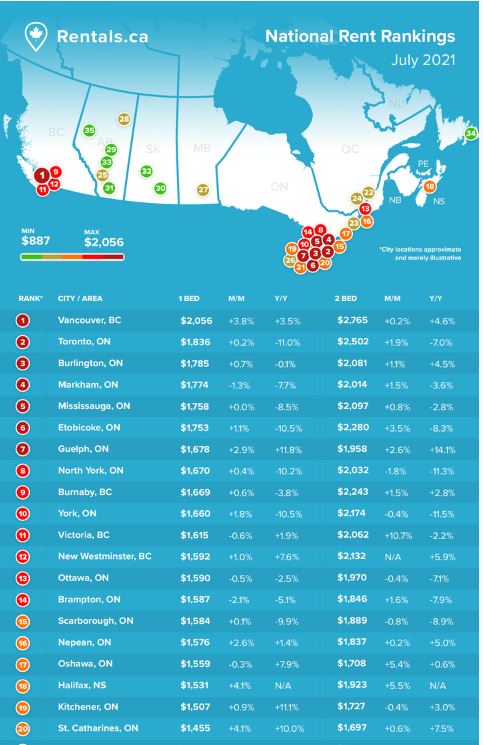 What Landlords look for in an ideal tenant?
Renting in Toronto can be very competitive, so understanding what Landlords look for in a tenant can help you be successful in finding a condo to rent in Toronto. Landlords look for a good track record, good credit score and stable income.
4 Tips on finding great rental in Toronto:
Be organized; have your employment letters, salary verification, references & credit report ready to put an application in right away.
Think of it as a job application – You're interviewing for the space, so play up your strengths, compliment the property and keep demands to a minimum
Video speaks 1000 words – do a video introduction or Zoom call with the Landlord or Landlord's Realtor
Look in your budget – Landlords have their choice of applicants for premium properties – sometimes they rent for over the asking price. So make sure you're looking in or slightly below your price range