Single family homes: The number of home sales were down vs. August 2020. House prices increased slightly - a little over 1% - from July to August 2021 with the average GTA home price now $1,070,911 & the average detached house sale price $1,423,807. The big news was listings were down 50.8% from 2020 - which is the lowest level in the past decade - clearly not keeping up with demand!

Condo Apartments: This competition is becoming more widespread with tighter market conditions in the condominium apartment segment as well. Both number of sales and prices were up vs. July. The average Condo sale price for the GTA is $688,568.

Rentals: Multiple offers in rentals are back! Prime locations are seeing 2-4 offers, especially on 1 bedroom condo rentals under $1,900. Read more about this here: Competition in the Toronto rental market
Here are some common questions that I get when I'm talking about Real Estate: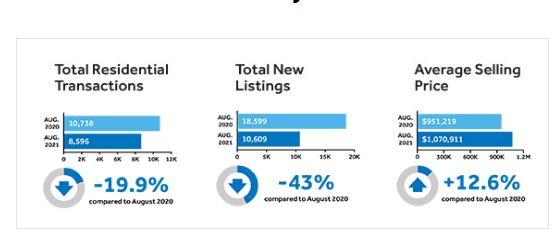 When will the housing bubble burst?


The fact that new listings were at the lowest level for the past decade is alarming. It is clear that the supply of homes is not keeping pace with demand, and this situation will become worse once immigration into Canada resumes. Toronto house prices will rise further if supply is not addressed. The federal parties vying for office in the upcoming federal election have all made housing supply and affordability a focal point.

Link to my blog post regarding the 3 major politcal party housing platforms can be found here: Will Federal Housing Platforms affect Toronto Home Prices?

Are bidding wars still a thing?
Yes they are; and with supply dropping, aggressive bidding for good homes in prime areas are back!


Are Open Houses Back?
Yes, our local board is allowing them, as long as the hosting agent observes proper social distancing protocols
3 Valuable Tips for First Time Home Buyers:

1. Know how much you need for down payment/closing costs: If you're purchasing a property $500,000 or less, you need 5%, between $500,000 - $1M you need 5% of the first $500,000 and 10% of the balance. Over $1,000,000 you need 20% down. Closing costs: budget $2,000 for legal fees and adjustments. You will need to budget for Land Transfer tax - normally first time buyers get a credit of up to $5,0000; land transfer tax is aproximately 2.5% of the sale price in Toronto, or 1.3% outside Toronto.

2. Talk to a lender once you have a handle on your savings: Before you start looking at real estate listings, be sure your finances are in check. Before granting a mortgage, a lender will consider your present assets, income, and existing amount of debt. Your mortgage lender may ask for documentation regarding the three factors, so it is important to organize important papers needed to support a mortgage application.

Once your finances are in place, you will then need to determine how much you can spend. To come up with a budget, use a mortgage calculator to help determine how much of a mortgage you can afford. You can also visit a mortgage lender and get "pre-approved" if you want something more concrete. A pre-approval is not required, although it is strongly recommended. This will allow you to establish a budget for house hunting and lock in an interest rate for up to 120 days, depending on the lender. A mortgage pre-approval will also show your realtor that you're a serious and qualified buyer.

3. Interview Realtors - you may be suprised to find out that there are over 58,000 Realtors in the GTA! With most only doing 1-2 transactions a year, there's a huge difference in experience, skill and training. For example I have my Masters in Real Estate Negotiation! Check out what my clients have to say about me in my 5 star Google reviews or on my testimonial page


DETAILED MARKET STATISTICS CAN BE FOUND ON MY WEBSITE AT: Market Statistics

As always, you can find your perfect home at: www.SueAnfang.com