Tight market conditions prevailed throughout the GTA and broader Greater Golden Horseshoe in 2021, with a lack of inventory noted across all home types. The result was intense competition between buyers, pushing selling prices up by double digits year-over-year. Looking forward, the only sustainable way to moderate price growth will be to bring on more supply. History has shown that demand-side policies, such as additional taxation on principal residences, foreign buyers, and small-scale investors, have not been sustainable long-term solutions to housing affordability or supply constraints," according to the Toronto Regional Real Estate Board
One sales trend that stood out in 2021 compared to 2020 was the resurgence in demand for homes within the City of Toronto. Overall sales in the "416" area code were up by a substantially greater annual rate (+36.8 per cent) compared to sales growth for the surrounding Greater Toronto Area (GTA) suburbs combined (+23.6 per cent). The marked recovery in the condominium apartment segment was a key driver of this trend.
House prices in Scarborough, house prices in Pickering, house prices in Ajax and home prices in Whiby were all affected, with marked increases in the Durham region as well as Toronto.
Consumers continue to see Toronto as a good investment in Real Estate as shown by the equity increases of Toronto Homes, Toronto Condos, Toronto Townhomes and Toronto Condos over the past 5 years (second chart)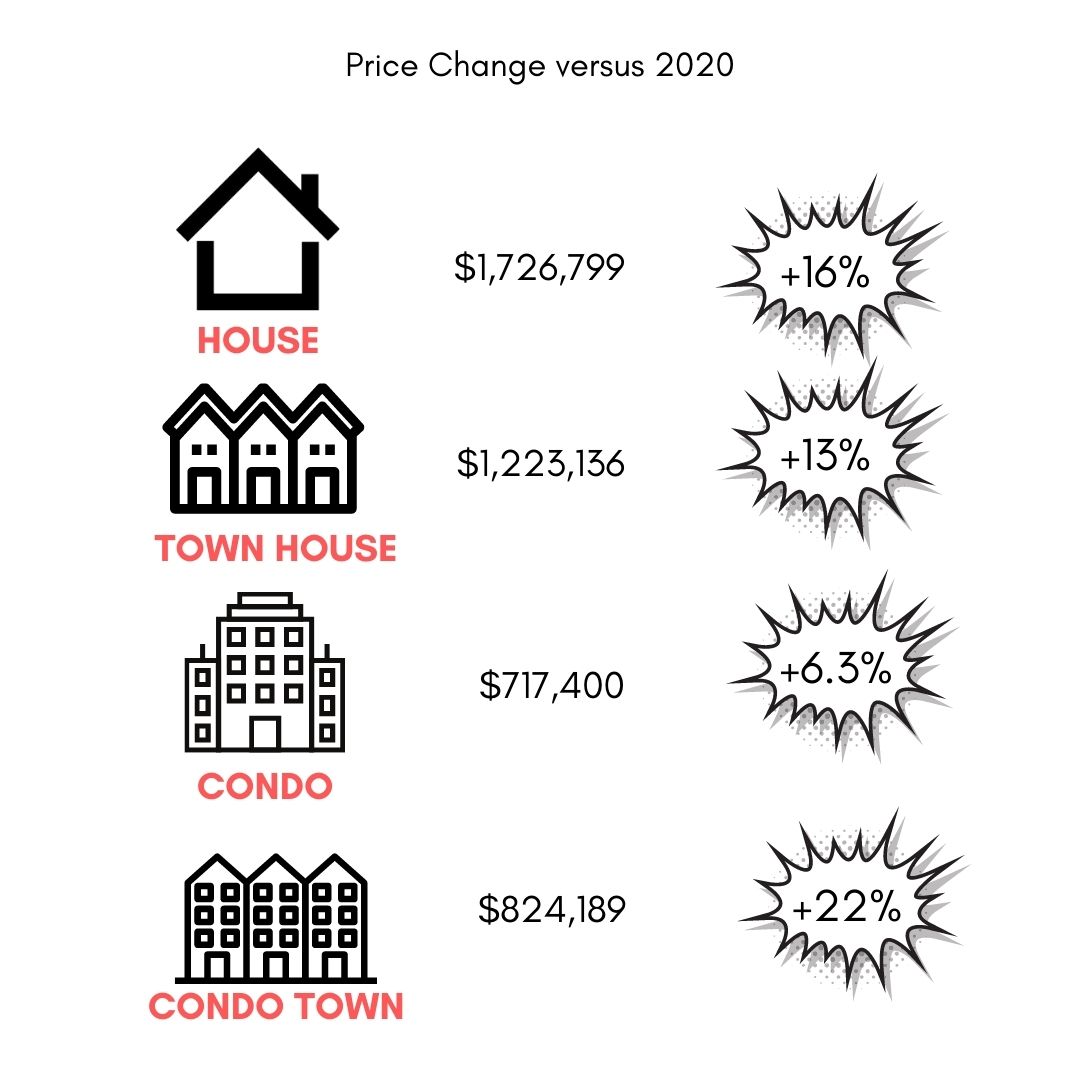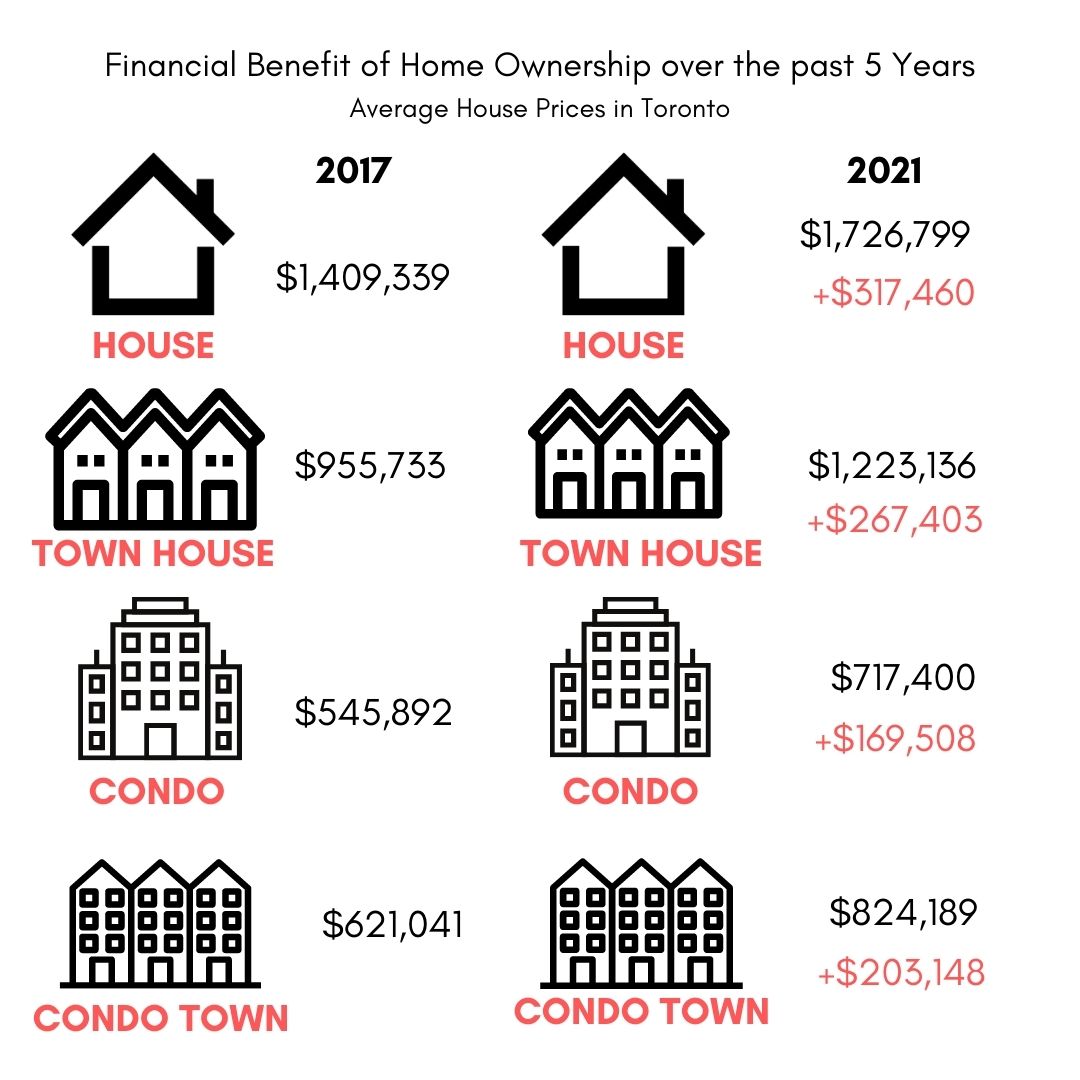 This chart shows the price change for December vs. 2020 illustrating clearly the low inventory (Sales)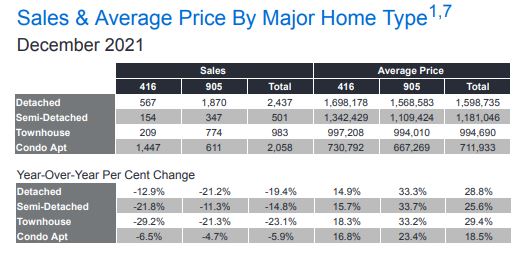 Mortgage Rate News
I work with several mortgage lenders, who are all very experienced & knowledgeable. Looks like rates are on the rise, but variable rates are still the best option right now according to my sources. It's likely that we will see some rate increases this year, so if you're planning on buying now is a good time to talk to a mortgage professional.
Here are some good websites: Simon LeFave, The Mortgage Centre Sandra Barnes, Dominion Lending
Pro tips for Buyers in a Competitive Market
If you're planning to buy a home in Toronto, home in Scarborough, home in Pickering or home in Whitby this year, here are some tips to survive a competitive market:
Property prices are increasing faster than anyone can possibly save - The table below shows the equity you could build over 5 years in the Toronto market. If this is your goal, getting in the market is everything. Creative financing options like buying a property with family, family gifting down payment monies or partnering with friends to purchase are all options in this competitive market.
Being flexible with your wish list & area will help you achieve your Real Estate goals. After all, properties in Toronto are often what we call 'stepping stones' – used to build equity to eventually get your dream home!
Consider a "bully' or 'pre-emptive' offer; this is an offer that's so irresistible to the seller that they are willing to sell to you and forgo other buyers
Work with an experienced Toronto real estate agent with lots of negotiation training that can create a strong offer strategy for you
Do your homework, comparison shop with sold house prices, not listing house prices
Loop in your mortgage broker, discuss your offer beforehand with them to make sure they are on board
Do your due diligence (like home inspections or review of status certificate document) before you bid so you can remove as many conditions as possible
have your deposit ready with your offer & get it into the hands of the sellers that day to give them confidence in your offer
review your closing costs & tax credits before hand, like the home buyers plan to save as much money as you can
Pro tips for Sellers in a Sellers Market
If you're planning to sell a home and the market is a strong sellers market, if your home is for sale in Scarborough, for sale in Pickering, for sale in Whitby or for sale in Toronto, here are my pro tips:
Follow the market for pricing. Even in a strong sellers market, an overpriced home lingers for weeks without selling. By working with your agent to develop a pricing strategy that's been proven time and time again you will get better results. Otherwise, buyers will see you as not serious or just testing the market and will pass you by
Prepare your home for market. Do those repairs, painting, and touch ups now. Buyers are paying big bucks and prefer move-in ready homes whenever possible.
Understand the condition of your home - do a pre-listing home inspection unless you are selling 'as is' to to budget for repairs