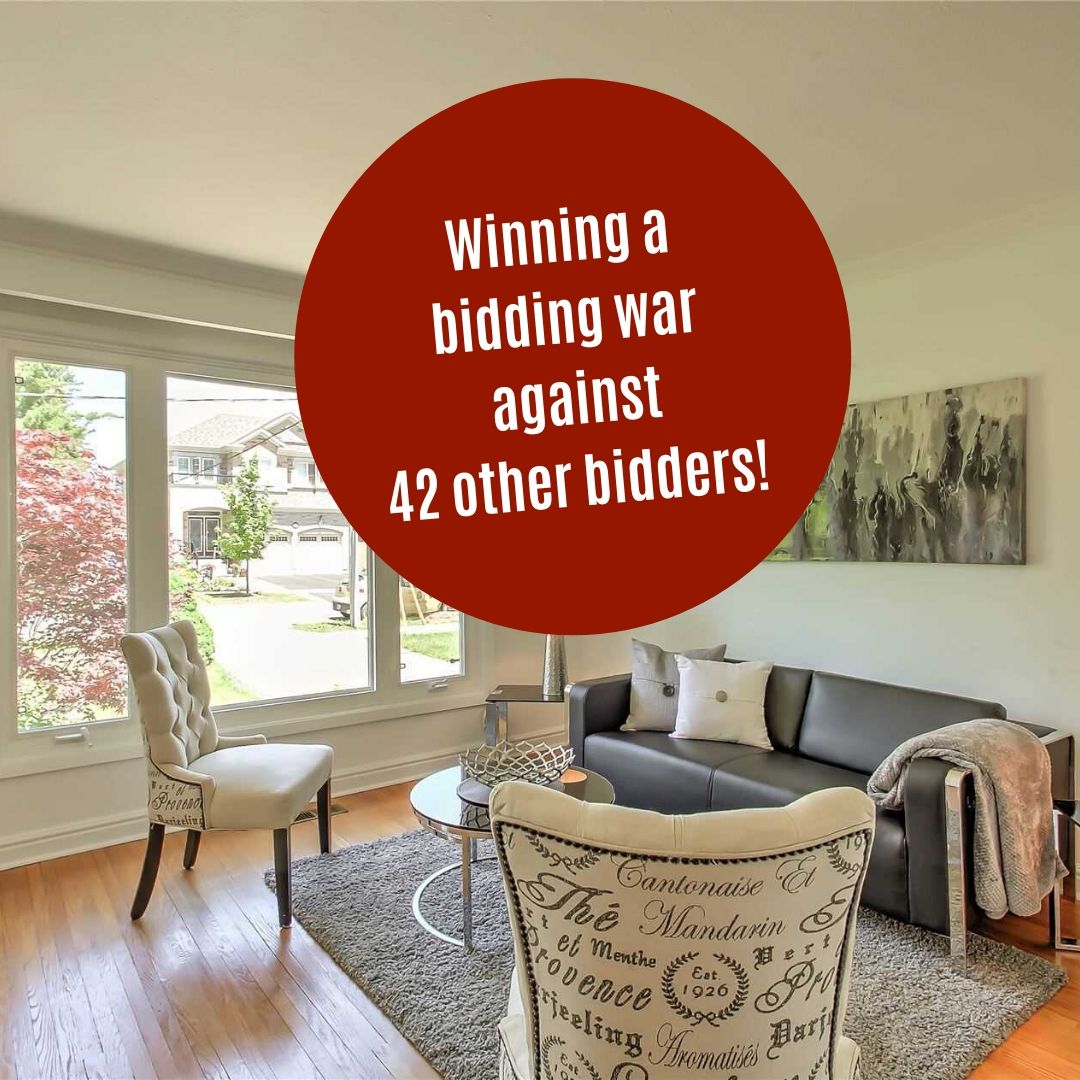 I just represented a buyer in a multiple offer situation (also known as a "bidding war") Happens all the time in Toronto, right? What was different in this case was that there were 42 other offers along with ours! So how did we end up winning the property, and, more importantly NOT overpaying? Here's what we did…..
Understand what a multiple offer situation is (and isn't). Simply put, it's one of several marketing strategies sellers use to sell homes. Here's how they generally work:
As a Realtor, there are many approaches to marketing a listing. One strategy is to underprice the home in hopes of attracting as many buyers as possible. Generally speaking the home is underpriced 10-15% below market value & offered for viewings for 7-10 days. Offers are reviewed at a specific date & time which is indicated on the listing. The seller hopes at the offer review time that the home sells with no conditions to the highest bidder. In some cases 'bidding frenzy' may drive prices slightly over market value.
In this case the Sellers priced the listing super aggressively at about 30% less than market value. A good Realtor can easily check market value by reviewing recently sold similar properties to make sure you're not overpaying.
As a buyer, how do you compete in these situations?
Communication with the listing agent. A good realtor will open communication to get the best information to provide to a buyer to create a winning bidding strategy. This way the listing agent understands you are professional, thorough and working in the best interest of your client to make this as easy as possible for thier seller to accept your buyers offer! Information you can gather:

Preferred closing date

Target price (if they will share) or a recent sale they are targeting (again, if they will share)

Do they want best and final offer or will they expect multiple rounds of bidding?

Is there a home inspection to review ahead of time?

Do they require a deposit draft at the time of offer?

Do they have a cut off time to review offers; after which they won't accept any?

How many offers do they anticipate?

Will they accept a pre-emptive offer? (more about that below....)

Decide your offer strategy ahead of offer time so you're not pressured during the bidding.

Prepare and be comfortable with offers at A,B,C levels should you need to; have these at hand so you're not scrambling to do paperwork at the last minute.

Ask the agent for written instructions, and follow them! If they can't provide written instructions this means offers night may not be organized & at least you'll be prepared for that, too!

Review recent sales so you understand market value for the property.

If there is no home inspection provided by the seller, do your own ahead of time.

Review seller provided home inspection

Send the listing to your mortgage broker to review to see if you can waive any finance condition

Write a personal cover letter to submit with the offer to stand out from other buyers; or better yet do a video

Get a deposit (bank draft) ready to submit with the offer

Ask yourself "If I found out the house sold for $XXX.XX would I be OK with that?" You just hit your price ceiling, where you can walk away without regret or emotion.
Develop a bidding strategy:
In the case of this home, we were fortunate that the listing agent had clear and concise directions, which we followed. After the fact there were several offers higher than ours, but with conditions --that made our offer more appealing. In our case we had decided our bidding strategy would be:
To offer a large deposit and have it available offer night
To go in with our highest and best offer
The house may sell for higher than market value because of the number of offers (it did not)
To rely on the owner-provided home inspection
The mortgage broker cleared an offer without finance conditions
To follow the rules set down by the listing agent
What happens if you can't offer without a condition of finance (or inspection)?
Understand that to get a seller to accept a finance condition in an offer, you will likely need to offer a premium price. Make sure you don't offer what the property will appraise for; or you will have to come up with the balance in cash.
Do houses sell before the offer date?
Yes they can if a seller is willing to look at a pre-emptive offer. This is also called a 'bully offer'. This may be discretionary and is usually (but not always) included in the listing details. Bully offers are typically at the top of the price range a seller is anticipating with no conditions.